About Dianne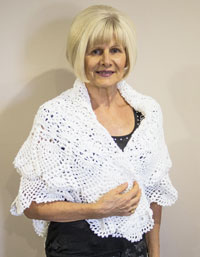 I'm a grandmother who wanted to give my own grandchildren something special when they were born.
My grandmother taught me to crochet when I was first married and I crocheted a plain babyshawl for my children but always wished I could have made a beautiful lacey shawl for them.
When my first two grandchildren were being born very close together I adapted a beautiful lacey pattern into a gorgeous baby shawl.
All seven of my grandchildren have their own shawl. When family and friends saw and loved these hand made shawls they started to put orders in for baby shawls for their children or for presents for someone they knew having a baby. The crocheted baby shawls have been such a great addition to a baby's arrival and children become really attached to them! So I wanted to make them available to all those who love the look of a hand made crochet shawl and a potential family keep sake for their children. And now I have grandmas using them as knee blankets and and shawls to wrap around their shoulders.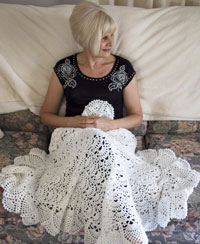 The shawls are made out of different yarns, acrylic, acrylic and nylon, wool, cotton, bamboo and wool. They can be gently machine washed incase the children get attached to them as some of my grandchildren have. I am trying different yarns all the time.
If you have a special colour or yarn you'd like please let me know and I can source some yarn in any type to crochet a specific blanket or shawl for you!
I'm also very interested in health and skin care so check out my skin care consulting business if you get a chance as well.