About Us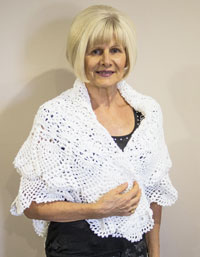 Crochet shawls is a website run by Felicity Bracegirdle and Tracey Gilbertson and all the crochet heirloom blankets you see were made by their mother Dianne.
Dianne's grandmother taught her to crochet when she was first married and she crocheted a plain babyshawl for her children but always wished she could have made a beautiful lacey shawl for them. So when Dianne's first two grandchildren were being born very close together she adapted a beautiful lacey pattern into a gorgeous baby shawl.
Dianne had an exceptional attention to detail, so every blanket is beautifully handmade with love. It was Dianne's passion, everyone who knew her knew she spent any down time crocheting. If there was travel, TV time, time to kill, Dianne would crochet. She loved trying out different yarns to find the best softness and she compared natural fibres vs acrylic, therefore there are many different types to choose from. J
ust ask Felicity for more information
if you can't choose between any particular styles.
Dianne had nine grandchildren and each have their own shawl. When family and friends saw and loved these hand made shawls they started to put orders in for baby shawls for their children or for presents for someone they knew having a baby. So Dianne wanted to make them available to all those who love the look of a hand made crochet shawl and who want a family keep sake for their children. Since Dianne's daughter Felicity builds website, crochetshawls.com.au was born!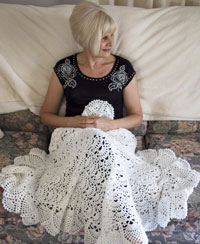 The shawls are hand crochet out of different yarns including: acrylic, acrylic and nylon, wool, cotton, bamboo and wool. They can be gently machine washed in case the children get attached to them as some of her grandchildren have.
Dianne passed away in December 2019. Her ninth grandchild was born in 2020 and will have one of these beautiful blankets as well. Such beautiful pieces of art to cherish. Dianne left behind 3 boxes of her shawls, so only those you see on this website are available and most are a once off. These pieces will truly be an heirloom blanket and we know you will enjoy having a piece of this craft in your home. Many today cherish their blankets that Dianne gave them, some more than 18 years ago.
These crochet baby heirloom blankets are now priceless pieces of art.
If you have any questions about any of the pieces, Dianne's daughter Felicity will be happy to
answer your questions
.